Stay tuned for future events.
---
Past Events

Sunday, December 10: Two Ways to Participate in This Ceremony
♥ In Person in Boulder, CO: 10-11:15 a.m.
♥ Via Skype, 1-2:15 p.m. Mountain Time


In Person, 10-11:15 a.m.: Kelly's Blue Barn | 1360 Sumac Ave., Boulder, CO
Street parking–please do not park in front of home immediately west of this address. Erika will provide further tips and details.
Skype, 1-2:15 p.m. Mountain Time: If you live out of state or country, more details about a separate ceremony via Skype. 

$18  |  Leave with an experience, sacred and honoring time, and inspiration from Erika to encourage you to continue this intentional, sacred energy
Register and invest below, no later than 6 p.m. on Saturday, December 9: registration deadline extended a wee bit.
---
---
Ceremony and Journey: Healing Your Heart
with a Deceased, Beloved One
Sunday, February 19, 2017:
11:30 a.m.-12:30 p.m. Mountain Time
Listen Live or Listen Later
From the comfort of your home!

If you'd like to do some deeper healing with a deceased beloved one, no matter how recent or "old" the loss, I would love to share this NEW sacred, powerful ceremony and journey with you. Recently, the inspiration and sequence for this offering came to me very strongly, and I'm so excited to share this moving, healing experience in the way I was shown!
This live event will begin with a brief check-in and ceremonial start. Then, I will briefly explain our shamanic journey–one of the most ancient forms of meditation: I will describe our intention and the goals of the journey and drum, as you lie or sit comfortably at home and listen via your phone or the internet. We will have a brief time at the end of this call for optional sharing about what you experienced. It's powerful to affirm our experiences and find connection with others through sharing our journey experience.
---
What are Shamanic Ceremony and Shamanic Journeying?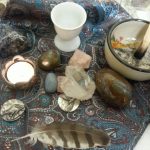 A shamanic ceremony, as well-known shamanic teacher Sandra Ingerman often says, is an intentional space and sequence that has a beginning, middle and an end. Usually I have an altar on which I place representations of spirit, fire, air, earth and water, as well as gemstones–and for our purposes, the (on paper) hand-written names of those registered for this event *and* their named deceased, beloved ones. Shamanism is not tied to any religion, yet is the common foundation in practices and some beliefs in many religions. Ceremony is a sacred, intentional ritual.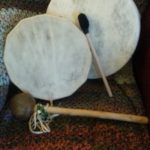 A shamanic journey is a meditative experience that is guided by intention, instructions and purpose, and drumming. Shamanic journeying is a profound way to access our inner wisdom through imaginative means, using all of our senses–some senses stronger than others (ex. you may "see" and visualize most; or, rather, you may more so have specific feelings and a strong knowing). Everyone's experience is unique, and it's all perfect.
Here's an example of a New Year ceremony without a journey that I did on Dec. 31: Click here to watch the 15-minute video, which provides a sample altar and ceremony.

---
---
About Erika M. Schreck

Erika is honored and eager to support others and help you create and feel more joy and peace in your life. As a reiki master, grief intuitive coach, shamanic practitioner, spiritual wellness advocate, tarot reader, numerologist and intuitive healer, she is extraordinarily empathetic because of her life experiences that have led her to a service-focused, spiritually integrated life.
Read more about Erika by clicking here.
"Through reiki, coaching, shamanic practices and other intuitive and spiritual tools, I am an advocate for your calm, peace and joy. I desire to help you feel lighter and brighter—and also help you realize and develop your own tools for maintaining your well-being, no matter what the external circumstances." ~ Erika M. Schreck

"Be kind. Be hopeful. Be you. Be here."  ~ Erika M. Schreck