Why not put yourself in the best place possible for whatever this holiday season brings? You may now receive access to the whole program at once.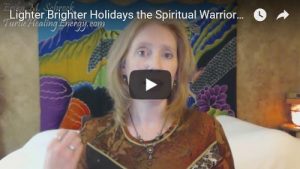 For nine days, Wednesday, December 13, through Thursday, December 21, receive a daily e-mail with the following:
Now you may invest and receive all nine days of content, each day including the following:
1. Simple intention and focus for holiday well-being
2. Ritual and practice, tools and insights via audio or video, intended to be completed in "10 minutes or fewer"
3. Inspiring word, phrase or statement to aid the practice and intention throughout that day and beyond
All for just $5 per day, $45 total. You will have access to the content and tools beyond these nine days, and you'll find these strategies and moments-of-calm can be helpful for other times, too.
It's December 2017, and we're officially in the "holiday season," when stress can be a bit higher, obligations can feel stronger, and we're in a push-pull with our inner, reflective self and the outer, social world. I would love to support you at this time by providing simple tools that are intended for completion in "10 minutes or fewer."
Why "9 days"? Nine in its numerology and symbolism represents wisdom, self-care, completion and fulfillment.

---

This program is free with my Spiritual Warrior Tribe Membership, and programs start at only $18/month: Click here to learn more.
---
1. Step One of Two: Invest in the Program 
$45  |  makes a great gift for yourself and/or a loved one needing support
Please note: You may also choose to join Erika's Spiritual Warrior Tribe membership and receive this program (free!) as part of the membership. Plans start at $18/month for three-month plans. Learn more by clicking here.
---
2. Step Two of Two: Register
---
Learn More About Erika
Click here to learn more about Erika M. Schreck, a Jane-of-all-trades, Renaissance Woman type who has been called Wonder Woman (and dressed in the costume the last five Halloweens and when trying to cheer friends in the hospital) and who truly wants to live gently while making a powerful difference for others.
Reiki Master | Tarot Intuitive Reader | Grief Intuitive Coach
Numerologist | Shamanic Practitioner | Spiritual Wellness Advocate™
MA, English: Composition, Rhetoric & Professional Writing
CPR and First Aid Certification
Through reiki, coaching, shamanic practices and other intuitive and spiritual tools, I am an advocate for your calm, peace and joy. I desire to help you feel lighter and brighter—and also help you realize and develop your own tools for maintaining your well-being, no matter what the external circumstances.
"Be kind. Be hopeful. Be you. Be here."
Erika M. Schreck