If you have scheduled an in-person session with Erika M. Schreck, Turtle Healing Energy, please note the following information regarding contact information, directions and some parking and other notes.
Contact Information
Erika's Office and Mailing Address (just north of Boulder):
6897 Paiute Ave., #2C, Niwot, CO  80503
See below for map
Erika's Phone Number: 720.253.4322
Some Notes
1. No need to arrive much or any earlier than your session or class start time.
2. Please park anywhere in the parking lot–no assigned spots.
3. You may pay by cash or check (address to Erika M. Schreck) in person or on-line
(click here to pay on-line).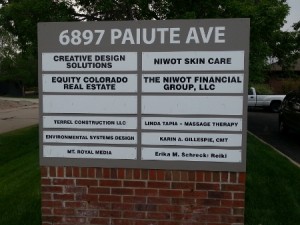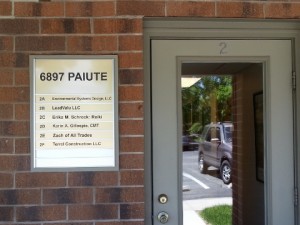 First sign you'll see from street in residential neighborhood.
Second sign (gold) you'll see next to door with Number 2 at the top.