Welcome to New Moon Spirit! Join us in person or virtually each month, every month, or whenever you can.
As we align more with moon cycles, we connect more with our Oneness, with Nature, with our desires and health, and with more presence and intention. January 1–New Year's Day–can feel like a lot of pressure, and it's never too late to create a fascinating cycle of new-ness and desires-manifested.
What if each month you can feel the blessings of renewal and awareness, and see more results with manifesting more of what you want and enjoy the benefits of ritual? I want to inspire you with simple, brief approaches to achieve great shifts each month and beyond, capitalizing on the New Moon gifts and energy.
Next New Moon Spirit event is Sunday, April 15, 12:30-2 p.m. Experience in person or conveniently via e-mail.
Keep scrolling if you're just here to invest and register.
---

---
Steps to Participate in an Event, Live in Boulder, CO, or Later via E-mail
Keep scrolling to invest and register.
Overview: What You Need to Know
1. Each month, Erika will offer a New Moon ceremony and shamanic journey, offered in person as close to the New Moon as possible–usually before, sometimes within 24 hours after the day of the New Moon, Mountain Time USA. You may participate in person in Boulder or enjoy an e-mailed ritual and shamanic journey, different each month.
2. The New Moon ceremony and shamanic journey (see video linked below) will be intuitively guided and planned, and consider astrological influences unique to the month and timing. Renewing intentions each month helps us practice the ritual of honoring cycles and fully benefiting from New Moon energies and magic. Each month will inspire new focus and intentions, as well as result in varying insights and messages.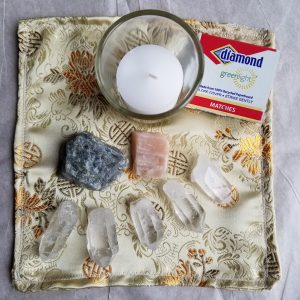 3. You'll need a New Moon Altar Kit: a beautiful starter set specifically designed for New Moon ritual and energy, created by Erika. Your New Moon Altar Kit includes a personally sewn, beautiful "starter" altar mat (Erika will personally create; approx. 7″ X 7″; beautiful fabric); candle holder with clean-burning, made-in-the-United-States candle; matches; select, quality gemstones for a specific, simple layout and intentional invitation; printed, thoughtful guide with ideas for altar set-up and New Moon ritual. Gemstones will be similar to those shown: minimum of quality five clear crystal points, one labradorite (rough or smooth–see its iridescence in light!), one moonstone. Altar mats vary in colors and patterns. Generally, ritual and intention-setting during New Moon time for any month is recommended from one day before to about two days after the New Moon (check your time zone and moon calendar). Details are below; pricing is discounted when you invest in a ceremony, and extras are available for sale, if you're inspired to gift one of these very special kits.
---
Options to Participate
You have three options when participating in these monthly New Moon ceremonies. Investing in a multi-month pass will save some money. Each month, if you're participating in person or choose the option that includes the monthly extra, you'll receive a gift from Erika to enhance your New Moon rituals and practices. It may be an extra gemstone to add to your altar or use as you wish or an additional video with a related practice.
You're in charge! You'll decide each month, month to month, how you're participating–or not. If you want to participate in person in Boulder: Sundays, 10:30 a.m.-12 noon, North Boulder (1360 Sumac Ave., Boulder, CO): 90-minute ceremony with meditative experience [shamanic journey] + related gift each month: See below for full schedule for 2018.
---
Step One: Invest
Please review options above. Each month you'll register–see next section–because we know that life offers us opportunity to stay in flow. *wink* If you invest in a pass (read: discount), you choose when you use the three or six events purchased–you'll register each month.
Please note all of the options listed in the following pay button. If you're adding a New Moon Altar kit, note your options; you receive a discount. It will be your investment for the class + your discounted $22 additional for the altar kit, if you don't have one from January's event.
---
Step Two: Register for April 15, 2018
For in-person, monthly New Moon events, there are 16 seats available. Please register no later than 6 p.m. the day before. If you're not attending and having the monthly gift and/or New Moon Altar Kit mailed, and you'd like to receive your gift in time for the New Moon, allow for five to six days prior for shipping.
>>>You will receive e-mail confirmation for your registration: This message may be in your Spam mail folder–sometimes "Promotions" or other folder with Gmail accounts.
Step Three: Check Your E-mail: Registration Confirmation, Event Reminder and Event Follow-Up
>>>You will receive e-mail confirmation for your registration, an event reminder on the Saturday before the event and event follow-up with a recording: These messages may be in your Spam mail folder.
---
Optional Videos
---
Full Schedule: New Moon Spirit 2018