"Reiki is one of the most powerful tools I know."   ~ Erika M. Schreck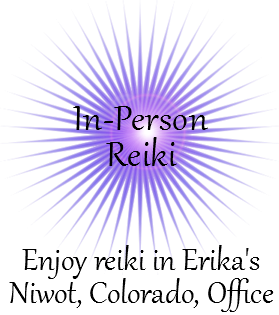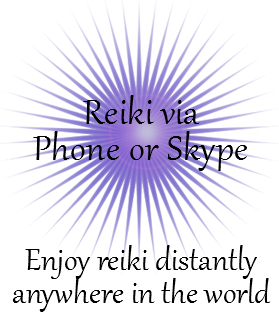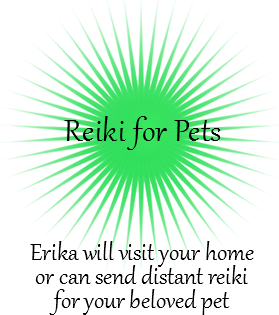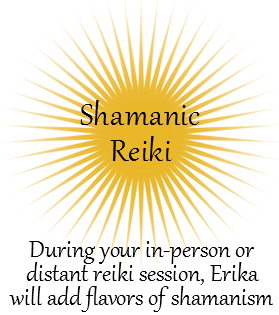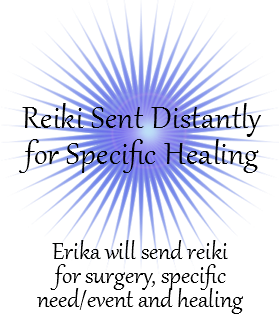 ---
Brief Overview for Variety of Reiki Services with Erika M. Schreck
Pay with cash or check at the time of your in-person session or on-line at bottom of this page.
For more information about reiki and reiki sessions with Erika, please click here. Erika lives in Boulder, Colorado, but can do reiki sessions by phone–these distance reiki sessions can be just as powerful as in-person sessions.
♦ In-Person Reiki Session
If you'd like to experience an in-person reiki session at Erika's office in Niwot, Colorado, or, in a very special case, wish Erika to bring her reiki table and other needed session items to your nearby home, click here to learn details.
Adults: $80/75-minute session  and  $216/three 75-minute sessions ($24 savings)
Kids (12 and younger): $45/45-minute session
♦ Reiki Session via Phone or Skype
A live reiki session may be experienced via phone or Skype. Generally, a phone or Skype reiki session with Erika is completed very similarly to an in-person reiki session and may include more talking and sharing of intuitive messages during the session: Click here to learn more.  During the session, you are encouraged to lie or sit comfortably with your eyes closed, using your phone on speaker mode or using a headset with your phone or computer.

Adults: $80/75-minute session  and  $216/three 75-minute sessions ($24 savings)
Kids (12 and younger): $45/45-minute session
♦ Reiki for Pets
I also love doing reiki for your beloved pet(s)! I find that pets are more comfortable experiencing reiki in their own home, so I can either visit you at home, do reiki for your pet via phone or Skype, or send reiki distantly. There is a nominal charge for travel outside of the Boulder, CO, area.

$54/45-minute-or-so session at your home–includes travel to Boulder area, +$10 for travel within 20 miles of Boulder, CO
Contact me about distant reiki sessions for pets.
♦ Shamanic Reiki
Shamanic reiki is an amazing combination of two lovely, powerful forces: reiki and shamanism. Shamanism is a beautiful, ancient, non-denominational, spiritually based tradition and way of life. Adding shamanic "flavor" to my reiki sessions may include drumming, rattling, shamanic journeying, ceremony and Nature-based and -respecting practices. I have consistently found that adding even a brief shamanic journey and/or soul retrieval to a reiki session can create profound healing for traumatic and difficult experiences in the past and present—and add confidence, peace and positive results for anxiety-ridden future events. The unique and amazing shamanic reiki session with Erika will include a check-in at the start of the session, a brief shamanic journey (will be discussed) to gain wisdom and healing, a full reiki session, recorded conversation at the end of the session, and e-mailed follow-up.

$100/90-minute shamanic reiki session
$270/three 90-minute shamanic reiki sessions (save $30): package rate

♦ Reiki Sent Distantly for Specific Intention and Support
I often get asked to "send reiki" for a surgery, for prosperity and abundance, for a specific intention, and so forth. If you're not interested in having or gifting a full session, I can send reiki for a specific event or time in a brief, ceremonial, intentional, reiki-filled, brief session. If you'd like me to do a more traditional session but not "live," I can do so for a 20-minute session and can record (audio) and send recorded notes (as mp3 file that you can save and listen to infinitely) via e-mail.

$25 for intentional ceremony and reiki sent distantly (15+ minutes) for specific intention, with e-mail follow-up

---
Schedule Your In-Person/Skype/Phone or Shamanic Reiki Session
n
If you've already paid with the payment button elsewhere on the website, when using the on-line scheduler, just choose "pay at time of in-person session OR already paid" option, once you arrive at the payment stage.

---
Invest in Reiki Session On-Line (In-Person Payment Via Check or Cash Also Options)