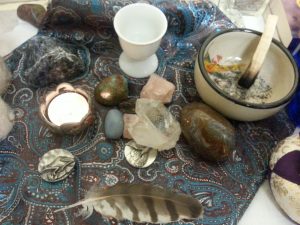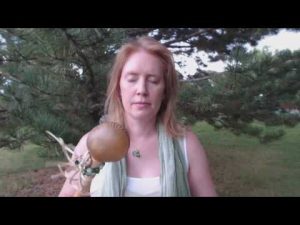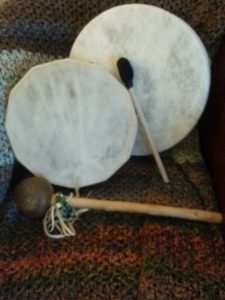 When I was a young child, I was content to be outside most of the day, writing and drawing, reading, talking to the trees and animals, and reveling in Nature. I started a recycling program at the local pharmacy-with-a-restaurant, where I started working at age 15 because I cared so deeply about our planet. Spirituality and Nature and respect for the earth and all creatures easily were a part of my life and life's mission.
In 2009-2010, I began shamanic journeying and shamanic drumming and ceremonies with a local (Boulder, CO) Lakota woman, and I did not pursue shamanic practices regularly again until January 2016, when the death of my beloved dog ignited my participation in weekly journey circles, shamanic journeying and ceremonies, and research into combining shamanism with my reiki practice, other healing work and personal life. In 2016, I also completed an advanced shamanic practitioner training program with well-known shaman and teacher Sandra Ingerman. As this course began, world tragedies prompted me to "do something" for more peace on the planet, and I developed my Shamanic Journey through the Chakras offering. I've been working with kids in shamanic ceremony and journeying, leading shamanic ceremonies for individuals and groups holding special intentions (ex. healing and ease for loved one with cancer), adding shamanic journeying to reiki sessions as another option for clients, and integrating shamanic practices and rituals into various Turtle Healing Energy services and my daily personal life.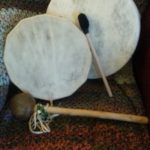 ♦ Shamanic Reiki
Shamanic reiki is an amazing combination of two lovely, powerful forces: reiki and shamanism. Shamanism is a beautiful, ancient, non-denominational, spiritually based tradition and way of life. Adding shamanic "flavor" to my reiki sessions may include drumming, rattling, shamanic journeying, ceremony and Nature-based and -respecting practices. I have consistently found that adding even a brief shamanic journey and/or soul retrieval to a reiki session can create profound healing for traumatic and difficult experiences in the past and present—and add confidence, peace and positive results for anxiety-ridden future events.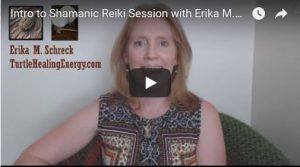 Click here or on the image at right for a video introduction of Erika's shamanic reiki session. The unique and amazing shamanic reiki session with Erika will include a check-in at the start of the session, a brief shamanic journey (will be discussed) to gain wisdom and healing, a full reiki session, recorded conversation at the end of the session, and e-mailed follow-up. You may invest at the time of your in-person session or invest with the button below for your distance or in-person session.
$100/90-minute shamanic reiki session
$270/three 90-minute shamanic reiki sessions (discounted package rate)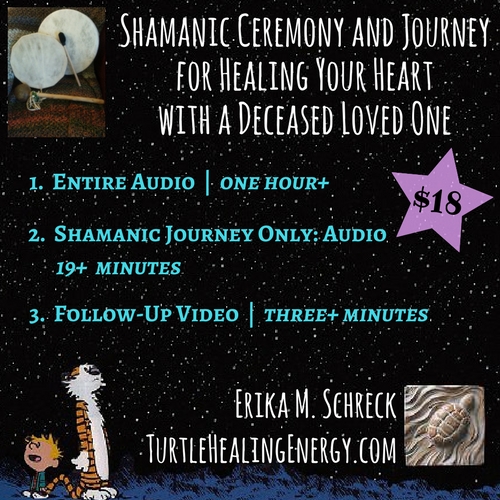 ♦ Shamanic Ceremony and Journey for Healing Your Heart with a Deceased Loved One 
Using shamanic ceremony and shamanic journeying can be incredibly healing. This product includes audio and video to help support your healing with the death of a loved one, whether the loss was recent or not-so-recent. Grief is a journey and not something to "get over" but a journey through which we learn to carry our grief differently. Click here to learn more about this unique, special offering priced only at $18 and a meditative, healing offering that can be experienced more than once.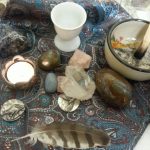 ♦ Shamanic Ceremony
Shamanic ceremony as I understand and practice is a sacred, participatory, simple experience that starts with intention and preparation, includes ritual and a guided sequence of acts and words at a dedicated altar, and closes deliberately. I offer several types of shamanic ceremonies at this time, for the purposes of supporting people; directing prayer and intentions; and sending love, light and healing energy.
♥ In-Person or Skype Live Ceremony with Group
This ceremony is often 60-90 minutes (we can pre-determine preferred length). I usually travel to your home to conduct this ceremony and provide instructions, a simple altar for the group, a small gift for participants so that they may continue the energy and intentions, and all the elements of the sacred ceremony, including a shamanic journey [meditative experience guided by intention and drumming and resulting in rich and amazing wisdom]. Optionally, I can seek a local space to rent, if needed, and the rental fee would need to be covered by the host.
Some recent examples of this type of ceremony include (1) a ceremony for a friend's son diagnosed with and managing
cancer–10 women gathered to hold space and send healing, and (2) a ceremony for people grieving a loss during the holidays.
Sliding Scale: $45-$90 (let's discuss)
♥ Video-Recorded Ceremony E-mailed to Individual or Family
This ceremony is typically 10-15 minutes and is video-recorded; the link is sent for viewing and saving the video. This ceremony is done with
the intention requested and can be done for you or as a gift for someone else. An altar–sacred space with gemstones, the four elements
represented, written intention(s) and name(s), and other intuited objects arranged as guided–will be created specifically for the subject and
intention of this ceremony. The ceremony will be guided by what will benefit the subject and intention and conducted intuitively and
purposefully. This ceremony is a powerful way to send support, love and light in the way that is needed. You may invest with the button at the bottom of this page.

        Here's ceremony I did for a friend diagnosed with an aggressive brain tumor; I did not show the altar in this video: Click here.
Here's a ceremony I did for intentions submitted by people following my Weekly Free Shamanic Healing Ceremonies for Your Intentions
offering in 2016: Click here. This ceremony was the "series finale" and completed on December 31, 2016.
$29
♦ Public Ceremony Events
Periodically I offer a live ceremony to a group for a particular intention. In December 2016, for example, I offered a Honoring Your Loss and Grief: Special Ceremony with Erika M. Schreck, intended to support people experiencing feelings of loss and grief, especially with the added layer of the end-of-the-year holidays. Click here to learn more about these events; the Turtle Healing Energy newsletter also announces events, services and specials.

♦ Free Ceremonies
Erika M. Schreck adds free, public ceremonies at times to her YouTube channel, which you may enjoy at any time. Click here.
---
Use the following button to pay on-line for your distance session or in advance for your in-person session.