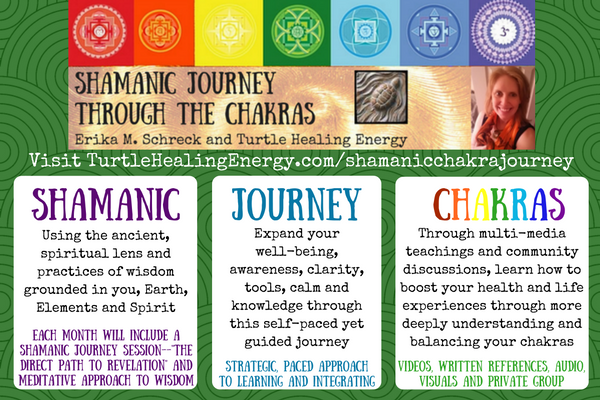 Registration for the October through December 2017 group program is open.
Or, you may experience this material at your own pace and invest in the entire program at once.
See below for details.

Most of you have heard of those energy centers we often picture as colorful, spinning wheels in our bodies. There's so much more to know! I want to take you on an insightful, healing, supportive journey and share perspective and specific practices that open you even more to accessing the benefits and application of our chakra system.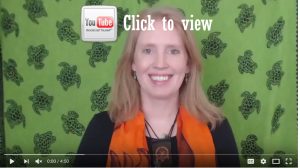 Welcome Video: An Overview for the Shamanic Journey through the Chakras Program
---
Step #1 of 2: Program Investment
Option #1: Most Popular: Group Program: Chakras are introduced every-other week, with Part One the first week and Part Two the following. The investment is $108. You may invest in this program and access all of the material at once. It's also really lovely to experience this program as a group, with e-mailings for each chakra sent weekly–each chakra gets two weeks–and your invitation to enjoy community via our private Facebook group, AND an invitation to join live (and recorded) group calls to discuss the material and share and inspire. Next Group: E-mailings will be ever-other Wednesday, starting Wednesday, October 4, and completing on Wednesday, January 3, 2017.
Option #2: Program and all contents available at once for your self-paced, self-managed approach: $90. You may also want to gift this program and purchase two at once at the discounted offer of $144 for two.

Why so reasonably priced?! I've been wanting to offer a generous program like this one and find that understanding and working with our energy and emotions brings our bodies so much more calm, joy and peace. I was especially nudged to move ahead–and quickly–with this offering, given the Florida shooting in June 2016. We need more love, light and kindness in this world! Here's one of my contributions.
---
Step #2 of 2: Registration Form for Shamanic Journey through the Chakras

Please fill the following form to register. Once you invest on this page (Step #1 of 2) and fill this form, your e-mailings and program can begin. Blessings and Light!
---
Program Overview: What You Get and Can Expect
Once you invest and register,
+ if you're in a seven-month group for this offering (currrently January through July 2017), every two weeks, starting Thursday, January 5, 2017, you will receive two e-mail messages each month that will focus on one chakra
OR
+ if you've bought the entire program for your self-paced experience, you will have links to all e-mailings, filled with content.
The details of the inclusions in these e-mailings are provided below; you can enjoy any of these inclusions on your own time, at your convenience. I will also provide an optional private Facebook group for discussion for all registered members. This program is a re-run of the originally created program, which was offered June through December 2016.
A. Your first of the two monthly e-mail mailings offer insights and the following inclusions:
1. video introduction to one of the seven chakras each month, if you're doing the January-July 2017 program
In January, the two electronic mailings will focus on the first chakra; in February, the two mailings will focus on the second chakra; and so forth. In July 2017, we will conclude with the last two mailings focusing on the seventh chakra. That's a total of 14 e-mailings, each full of support, insights, videos, PDF references, and audio for the month's shamanic journey to deepen your work within each chakra.
2. an audio of a shamanic journey, approximately 11 minutes, preceded by a brief overview of the journey's intention and process, and followed by journaling your experience
Did you know that shamanic drumming is one of the first forms of meditation? Erika will lead you with shamanic drumming, stating an intention and explaining instructions prior to the journey, as you lie or sit comfortably with your eyes closed in a meditative state. You are advised to not participate in any journeying while driving or distracted. You will be given some space after the journey to write (a journal is recommended) about your experience after each journey. With the introduction, intention, actual journey and follow-up reflection, each journey track, focused on the chakra for each given month, will average 20-25 minutes.
B. Your second of the two monthly e-mail mailings offer insights and the following inclusions:
3. additional applications for working with this month's chakra
Plan to be surprised! Learn about gemstones and foods that support each chakra–and more.
4. links and reminders for the related video and audio provided in the previous e-mail mailing
5. a PDF with an image representing the month's chakra, as well as related words and affirmations, so you can work with this chakra whenever you are called with a simple reference
---
Learn more about your journey leader Erika M. Schreck by clicking here