One of my ways of processing and integrating loss is to read, listen and just be in it. The following resources are some of my favorites to share and truly game-shifters for me. Read a bit about my grief journey by clicking here.
"Grief is not something to get through or get over.
We learn to carry it differently."
Erika M. Schreck
---
Recommended Books
♥ The Grief Club, Melody Beattie
I wish everyone would read this book.
♥ Don't Let Death Ruin Your Life, Jill Brooke
♥ Bridges to Heaven: True Stories of Loves Ones on the Other Side, Sue Frederick

---
Recommended Audio and Video
♥ "How to Deal with Grief and Loss": Interview: Lilou Mace and David Kessler
YouTube Video: Click Here 
"Grief is a reflection of a connection that has been lost." ~David Kessler
♥ Changing the Way We Mourn, Laura Prince
YouTube Video: TEDxGoldenGatePark: Click Here
♥ The Adventure of Grief, Dr. Geoff Warburton
YouTube Video: TEDxBrighton: Click Here
♥ "Q&A with Mirabai Starr": Caravan of No Despair: Journeying Through Grief
and Loss into Healing and Transformation
Audio: Scroll a bit down the page: Click Here
♥ What Your Loved Ones in Spirit Want and Need from You
YouTube Video: Interview on Afterlife TV: Bob Olson and Mavis Pittilla: Click Here
---
Recommended
Articles
♥ Pet Loss-Specific Articles
1. "Things I Wish I Had Known When My Dog Died"
Jen A. Miller, The New York Times, March 2017: Click Here
2. "Grieving the Loss of a Pet"
http://psychcentral.com/lib/grieving-the-loss-of-a-pet
3. "10 Tips on Coping with Pet Loss"
http://www.pet-loss.net
4. "Coping with Pet Loss"
http://www.helpguide.org/…/grief-l…/coping-with-pet-loss.htm
5. "Common Questions about Pet Loss"
http://www.petlosshelp.org/10commonquestions.html
---
Other Recommended Resources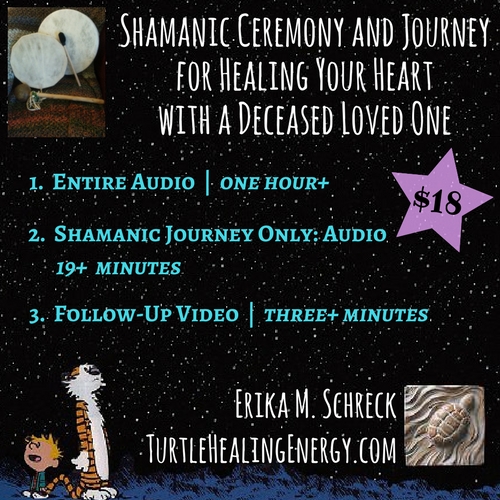 ---
Would you like more support?
As a certified grief intuitive coach and professional genuinely interested in supporting people who are struggling with loss and grief, I offer grief intuitive coaching services, free grief resources and other services like reiki to support you on your journey. Please peruse my website and contact me if you would like more support and connection with your grief journey. I am honored to support you. Read more about me, Erika M. Schreck, by clicking here.